Choker
A type of snug-fitting necklace worn around the neck. This desired design is available in various types of metals, including gold & diamonds, and often seen in antique gold, inspired by the Mughal era.
Bib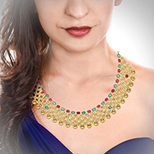 A bib necklace consists of multiple layers of bling and beads that drape down in a cascading effect near your collar bone, providing a "sizzle effect." Bibs can incorporate many materials together to create a multi-layered, eye-catching piece.
Layered/Fancy Chain Necklace
The layered chain necklace is a popular look, especially when combined with sandblast finish balls details. You can go with the classic chain design or opt for a fancier style with earrings for a complete look.
Tassel Necklace
This style of necklace can be long or short, featuring a tassel like motif in the center. The tassle style has been a top trend in fashion jewelry, especially featuring beads and colorful elements. Jewelry designers take this design to a new level by combining it would gold and precious stones. This on-trend design is available in unique styles in 22 karat gold, with assorted accent elements to match both western and Indian attire. The South Asian version of the tassle style is known as dokiya which is shorter in length, compared to the classic design.
Mango Necklace
The mango design is a traditional style, synonymous with the South Indian community. Manga 'mango' malai 'garland' is unique to South India and is traditionally worn for special occasions such as weddings. Mango is regarded as a symbol of love and fertility.